Matt Caflisch w. The What-Have-Yous
Friday September 29 @ 8:00 pm

-

11:00 pm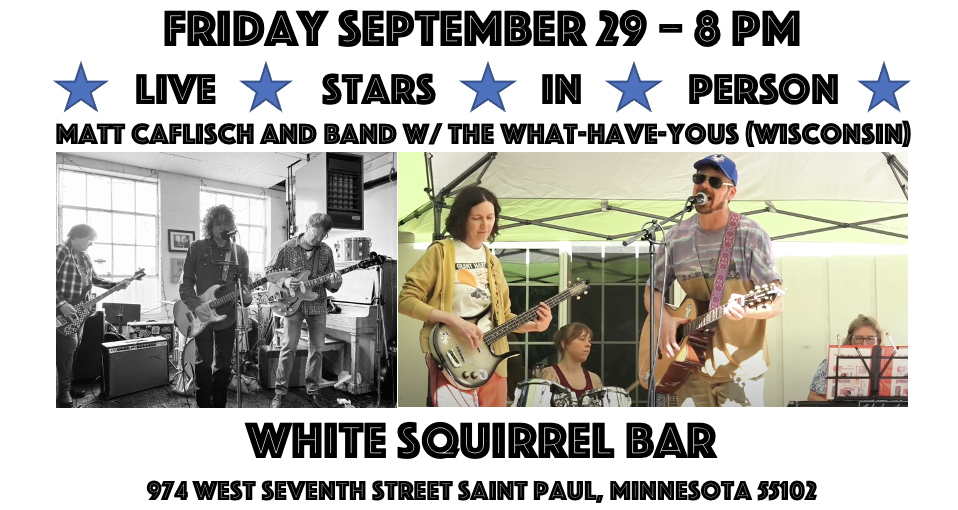 Matt Caflisch and his band of aces bring their power-pop and heartland
stylings to life on the live stage. The music video for "Simple Wide
Trailer" from his 2020 debut, Runaway, racked up YouTube views,
critical praise (Christgau), and airplay on 89.3 The Current. Matt's
new material features concept songs about icons large and small like
Joyce Lamont, Hank Aaron, Charlie Chaplin, and Mark Fidyrich ("The
Bird").
++++++++
The What-Have-Yous ride in from the wilds of western Wisconsin playing
a grass-roots brand of "Space Alien Indie" art rock. Frontman Adam
Kay sings and strums while Heidi Freier and Beata McClelland lay down
a hypnotic bass and drum foundation – Patricia Mars adds ethereal
keys. Violent Femmes meets Jefferson Airplane.