DL4 w/ Cole Diamond Duo
Wednesday August 24 @ 8:00 pm

-

11:00 pm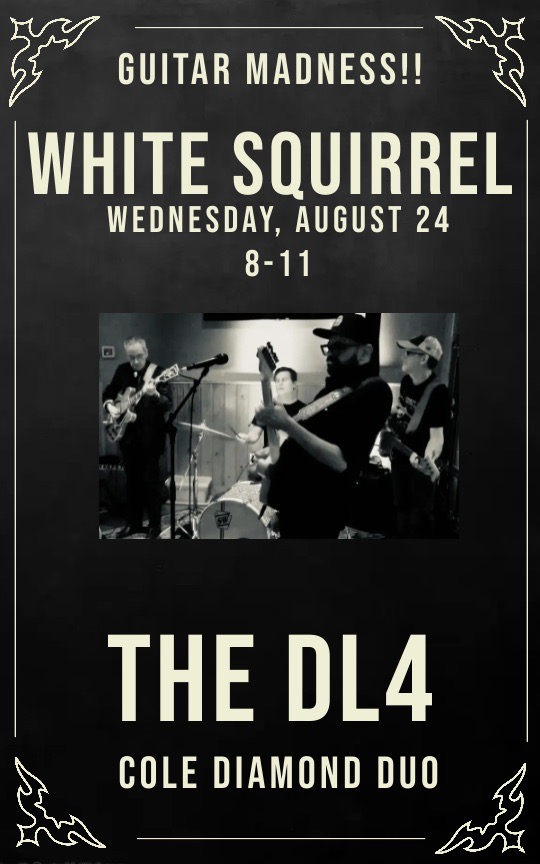 DL4 is a twin cities based group dedicated to playing the music of the greatest guitarists of the past 80 years.  Equal parts swing, latin, country, soul, surf, and blues, this combo always delivers with a mix of virtuosity and fun.  From Jerry Reed to Grant Green, James Burton to Link Wray,  Joe Maphis to Don Rich, Wes Montgomery to Roy Clark, and Chet Atkins to Marc Ribot this one-of-a-kind group covers it all. Built for small rooms or big this is a group not to be missed!  Features twin cities guitar legend Dan Neale, bassist Erik Lillestol (Cafe Accordion), and guitarist Dan Lowinger.
Band member Bio:
Dan Neale (Guitar) – is a guitarist who moves easily from blues and country to pop, jazz, and rock. Fingerpicking, flatpicking — he's got it covered. Back when he was a high school kid in Chattanooga, he began to think about a career in music. He played in the school band and in a group formed by his brother. That led to work with a slew of bar bands and a full-time stint in country rock group called Rawhide. In 1986, he left Tennessee for Minnesota ("I married a woman who hates hot weather," he says). As a studio player and sideman, he has worked with Martin Zellar, Bobby Vee, and a host of others.
Erik Lillestol – is a long-standing freelance Twin Cities bass player, most notably playing the french and gypsy-influenced jazz of the Cafe Accordion Orchestra.
Dan Lowinger – (Guitar) a transplant from Portland, OR, is a guitarist steeped in the tradition of swing, classic country, surf, soul and americana. He has performed locally with Martin Zellar, Tony Andreason (Trash Men), Honky Tonk Jump, Trevor McSpadden, and Cole Diamond and has performed regionally and toured nationally with many different northwest, country and swing bands including: The Barn Door Slammers, Ralph Carney's Pepper Grinders, Vince Mira, and Western Centuries.
Youtube Promo Videos: